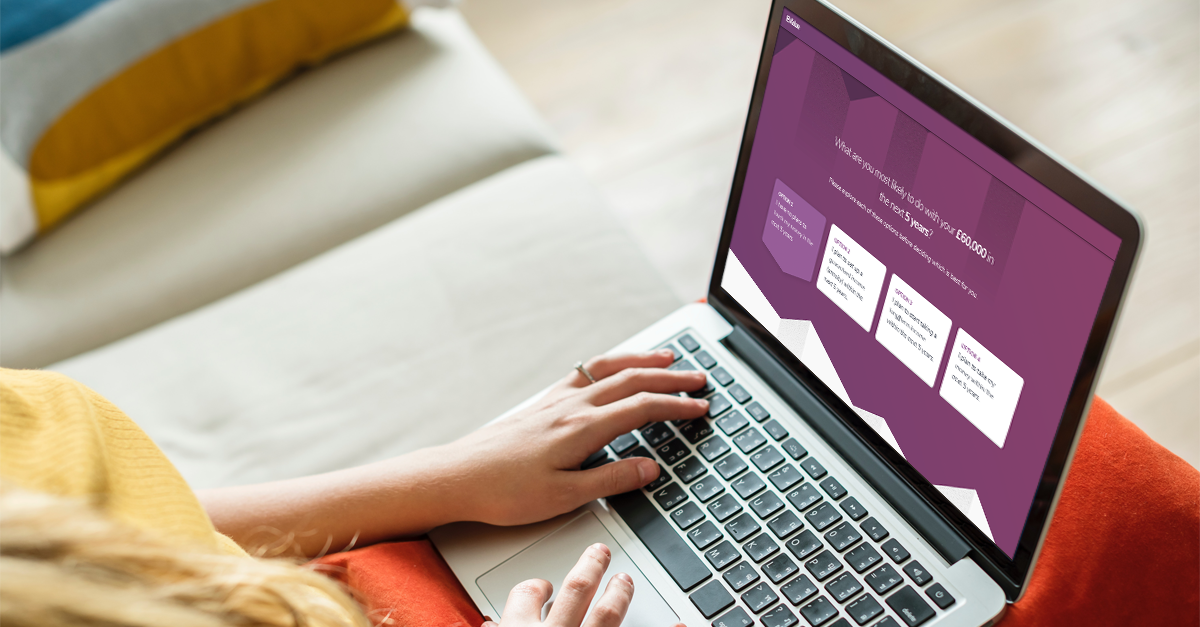 With the introduction of the Investment Pathways only a few months away, it is a busy period for pension providers who offer non-advised drawdown products to consumers.
For each of the four pathway objectives outlined in the Financial Conduct Authority (FCA) PS19/21: Retirement Outcomes Policy Statement, providers will need to supply a default investment solution to ensure the best outcome for each customer objective. They must then be able to then communicate the appropriateness of each option, ensuring customers understand the risk and reward characteristics of their chosen investment pathway decision.
Pension providers only have until August 2020 to design and release their chosen range of investment pathway investment solutions. It is likely that any changes to their processes will have a major impact on their customer's journey and interactions, as well as the providers systems and software.
There is more to consider than just the pathways themselves, as pension providers must also focus on the following areas:
Choice of pathway investment solution
What is clear is that pension providers must supply a default investment solution per investment pathway to ensure the best outcome for each customer objective. However, the FCA have not been prescriptive around the investment solution or risk profile that has to be chosen across the four objectives. Pension Providers will be permitted to mix and match across different funds or asset classes, or even use a variety of providers across each objective.
We outline some potential pathway investment choices below;


| | |
| --- | --- |
| Investment Pathway | Example of potential solution (pathway investment) |
| I have no plans to touch my money within the next 5 years | Higher risk multi-asset funds |
| I plan to set up a guaranteed income (annuity) within the next 5 years | "Pre-retirement" annuity matching fund |
| I plan to start taking a long-term income within the next 5 years | Mid-risk multi-asset funds |
| I plan to take my money within the next 5 years | Cash, Low-volatility, Absolute Return, Short-dated bond fund |
Appropriateness
Each provider must be able to answer the following question: is the pathway solution appropriate for the pathway objective and the characteristics of the consumers likely to be using it?
For each investment pathway, the provider must:
Identify consumers' characteristics
Set a clear objective
Develop/select the pathway solutions
Assess the appropriateness
Communicate to consumer
Any pathway investment solution must be consistent with the needs, characteristics and objectives of their customer outcome.
Characteristics include;
Age
Wealth,
Amount of investment
Typical risk profile.


Communication
As outlined in the FCA PS19/21 policy statement, providers must supply customers invested in a pathway investment solution with an annual statement that includes the following:
(1) a short description of each pathway investment the customer is invested in, including the corresponding investment pathway option under COBS 19.10.17R(1) and the current value of each pathway investment in cash terms;
(2) (for those customer's invested in two or more pathway investments) how the customer's drawdown fund is split, in cash terms, across the different pathway investments and the corresponding investment pathway options;
(3) a short description of the investment pathway options the customer is not currently invested in (COBS 19.10.17R(1));
(4) a statement reminding the customer that they can, at any time;
select a different investment pathway option and change their pathway investment;
select an investment that is not a pathway investment;
(where this option is available) split their drawdown fund across two or more pathway investments;
choose a different product to access their pension savings;
shop around, with an explanation of how they may do so.
Furthermore, if a customer has been invested in the same pathway investment for 5 years (or a multiple of 5 years) a firm should consider including in their next annual statement:
(1) a reminder of the number of years the customer has been invested in the same pathway investment; and
(2) a statement that the customer should review the investment pathway option.
Providers must be able to communicate the riskiness of each pathway solution in such a way that the consumer is able to see whether it matches their attitude to, or capacity for, risk.


So what next?
These changes in process will present significant challenges, requiring a robust software proposition and should be addressed sooner rather than later to ensure they will be ready for the launch of investment pathways in August 2020.
At EValue, we have a long history of modelling drawdown strategies and communicating risk and suitability. We are currently partnering with several clients to ensure they meet the looming deadline so they can use this as an opportunity to add value during this critical decision point with their customers.
Our independent off-the-shelf Investment Pathways solution can help you communicate the choices end consumers have to understand.
For more information about our capabilities, please follow the link to our investment pathways hub: https://www.ev.uk/investment-pathways