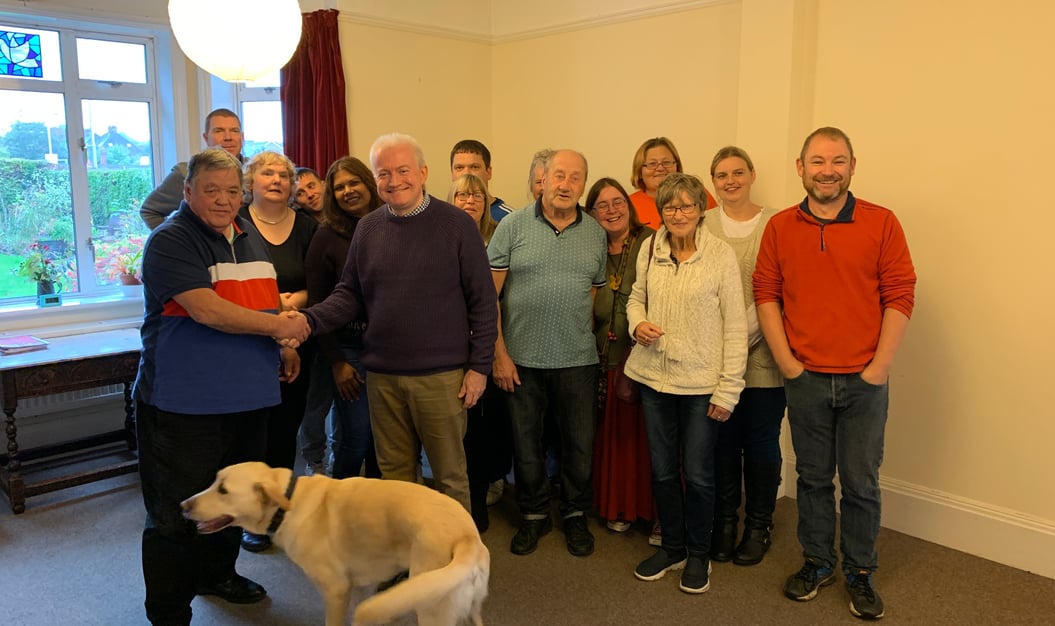 A few members of the team recently visited Eight Bells for Mental Health in Newbury, Tim Jinkerson's charity of choice to receive a generous donation from EValue.
"I came across Eight Bells For Mental Health while they were out street collecting, and I was interested to learn about the work they did. I knew that the term Eight Bells" means "the end of a watch, time to rest", and the idea of providing a space to rest for people experiencing mental health issues seemed such a valuable resource for the community in Newbury.
We received a wonderful warm welcome when we visited the drop-in, and I could fully understand why people wanted to spend time there. We were invited to visit again on one of their open days, and I look forward to meeting them again." - Tim Jinkerson, Technical Specialist - EValue.
Eight Bells is a charitable organisation which supports people affected by mental health issues in Newbury, Berkshire and surrounding areas. The charity is member-led and provides a safe space where members can meet, take part in daily activities and have a home-cooked meal every day. The charity also provides therapy sessions as well as a number of different workshops, training and day-trips, all organised and managed by the members themselves.
When entering the building, there's a real sense of family and togetherness, and you can appreciate just how much the meeting house means to the members, some of whom, we were told, were barely able to cross the threshold only mere months ago.
"I would not be here without Eight Bells. I have such a good relationship with everyone here. You know you can come here and feel safe, you've always got somebody that you can talk to whether it's a member or a volunteer." - Laura, Member, Trustee and Vice-Chair
Kathryn Dundas, the charity's coordinator told us that West Berkshire is the third lowest area for mental health funding in the country, which is why places like Eight Bells are so important for the local community. The charity receives no funding and relies heavily on donations and fundraising initiatives to support its members, whose numbers have grown from ninety to around three-hundred over the last three years.
The charity is very much living hand to mouth with the funding they receive and require between £3 - £4K a month to provide support to the local community. If you'd like to learn more about Eight Bells for Mental Health and the fantastic work they're doing in Newbury, you can visit their website, or find them on Facebook or Twitter.
"The thing I like about Eight Bells compared to other charities is that it's very much about the members. It's a very proactive group." Steve Masters, Chair of Trustees
Mental health is incredibly important to EValue and we're committed to looking out for each other and promoting positive mental wellbeing in the workplace. We currently have 16 qualified Mental Health First Aiders and 15 Mental Health Champions. You can read more about this here.
"At EValue we strive to actively recognise the importance of our employees mental health and wellbeing by continuing to educate and break the stigma. Supporting a small local charity like Eight Bells for Mental Health opens up another door for anyone experiencing any difficulties. It is important for employees to know that they are not alone in these times.The work that Eight Bells do is incredible and I am so proud that EValue continue to support local charities such as these." - Claire Pinfold, HR Business Partner - EValue