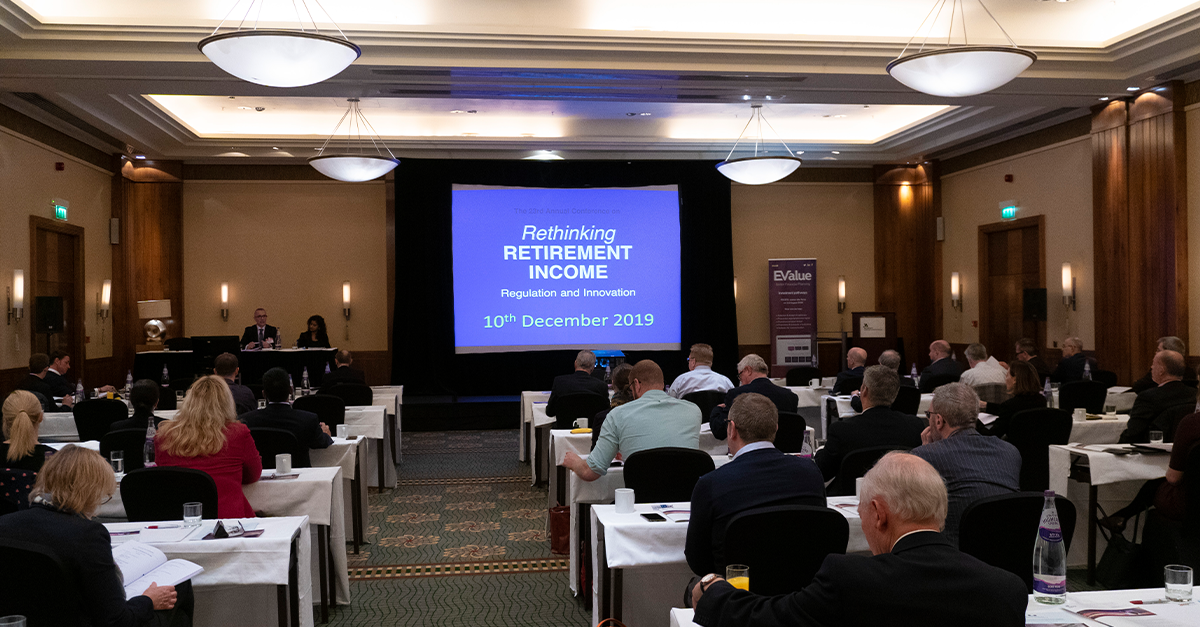 With the release of the Financial Conduct Authority's (FCA) upcoming PS19/21 regulations coming into effect this coming August, rethinking your approach to retirement guidance should be a top priority, prior to the change in regulations in August 2020.
The policy statement outlines the new requirements for all product providers offering drawdown. Part of the regulation covers Investment Pathways, these should clearly define end consumer's options 'at retirement', while you as the provider should be able to demonstrate what these options look like across four different outcomes over the next five years.
As a regulatory minimum, the different options include; no plans to touch my money in the next five years, set up a guaranteed income (annuity), start taking a long-term income (drawdown) or withdraw all my money.
On Tuesday 10th December, EValue chiefly sponsored the 23rd Annual Westminster and City Conference titled, 'Rethinking Retirement Income'. Douglas French, Chairman of Westminster and City, gave his views on the upcoming changes to the regulatory pension environment;
"The key message from today is how complicated the regulatory issue is. In particular, the variety of problems that need to be solved and the variety of solutions coming forward. Secondly, individuals who should be taking advice are not necessarily doing so, or they think they are getting advice when in fact they are not. The FCA is working hard to address the issue but accepts that a lot more needs to be done."
At EValue, we believe the FCA Retirement Outcome Review is key to the financial planning and guidance industry, as historically, consumers have not been given adequate guidance around their investment choices in retirement.
Tim Jablonski, Propositions Director at EValue, expressed his views at the event;
"The FCA have put forward their investment pathways in order to help non-advised consumers who previously were not engaged with their pension provision. Historically, many issues have arisen from moving their allocation to cash assets which ultimately provided sub-optimal results. The new regulations will try to get consumers thinking, and determining their investor style which will determine a suitable default fund in retirement. The Retirement Outcome Review is key to the industry as until now there has been a sense of failing to help consumers when they come to choose a suitable and sustainable investment solution in retirement"
The introduction of technology can help supply guidance and advice to unadvised consumers. Tim goes on to state, "The financial advice and guidance industry need to find a way of offering advice to people in a cost-effective way. The use of technology we believe is the answer to bridging the advice gap, whether it is advisers making use of guidance tools, or consumers accessing automated advice directly, or both."
Investment pathways: How we can help?
Selection & design of pathways
Proposition appropriateness report
Drawdown product design
Projections & forecasts of outcomes
Software for communication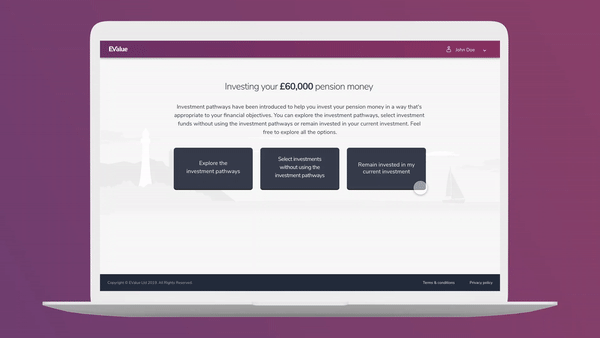 Your Income Drawdown opportunity
Discover the opportunity around income drawdown for your business with resources and research around the topic of income drawdown.
To learn more visit: www.ev.uk/drawdown