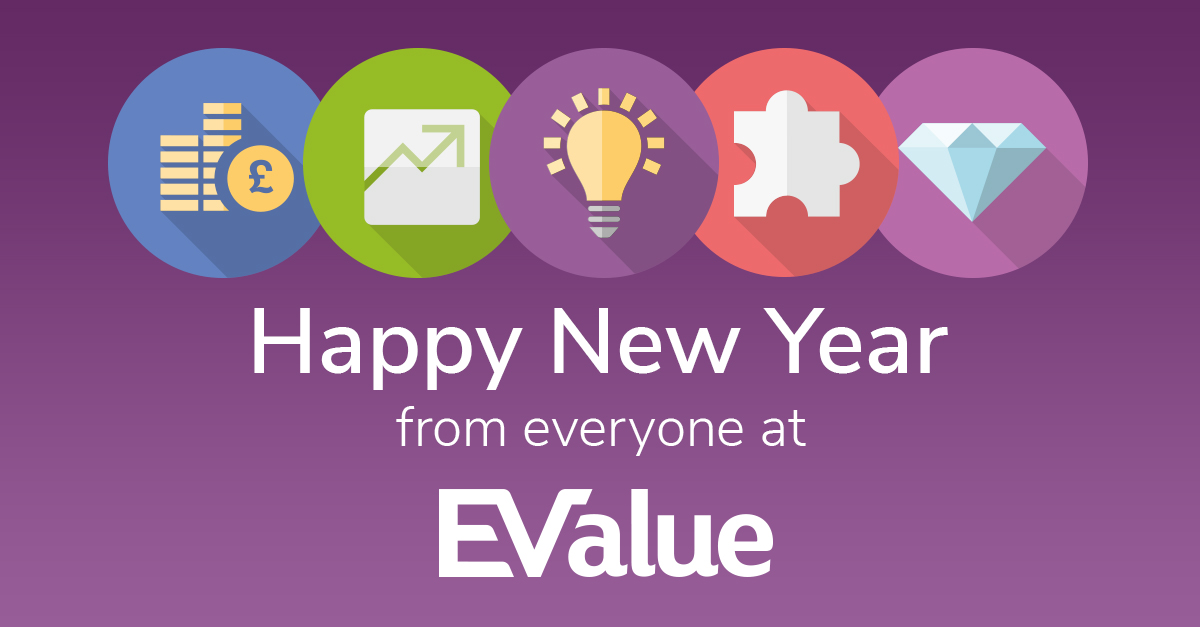 So, it's back to work week. We hope that, like for us, at least some of the new year's resolutions are still intact. And as usual, we've pulled together some of the highlights from the last 12 months – as well as what we're looking forward to in the next 12.

We'd also like to take this time to thank everyone who's worked with us. Whether we've attended events together, collaborated on new ideas, or helped consumers make better decisions, it's been great working with all our clients and partners.
A look back at 2018
From the royal wedding to the war on plastic, 2018 had some big headlines– and the capital markets were no less interesting. It was no different here at EValue. We're proud of everything we've done for our customers and their clients this year. Now we can't wait to to continue this into 2019.
We helped many clients digitise their advice and guidance processes, cutting down the time it takes get advice by 90%.
Our API Developer Portal went live, giving our clients an easier and simplified way to access our APIs. There's even a What's New page, giving people more information about what our APIs can do and what the latest updates mean.


Our asset model has continued to be instrumental in providing robust asset allocations to our clients.
We attended some great events where we met some inspiring people. You can read about our time at FinTech Connect, Wealth 2.0 and the FCA Pensions TechSprint on our blog.


One Financial Adviser was successful in proving an approach for fully automated advice for retirement accumulation in the FCA Sandbox. In 2018 we started building the At Retirement product too. This aims to help people make better financial decisions when they reach retirement.


What can you expect in 2019?
It's fun looking back on all we achieved in 2018. But it's even better to look forward to our 2019 plans. From helping more clients create digital advice processes to solving the challenges around affordable advice, we're looking forward to the next 12 months.
We'll support more clients with their advice and guidance transformations. We're putting a big focus on improving efficiency and engagement while reducing the risk of these processes. We'll also join up with other top providers to create the best results.
Our

APIs

will continue to develop and provide easily accessible calculations for our customers and their users.
One Financial Adviser will launch At Retirement advice this year. We're looking forward to seeing how this will help people make informed financial decisions when they reach retirement.
Insight will support the upcoming Investment Pathways and suitability requirements. And it'll continue to be key to projecting financial outcomes.
Fin will carry on supporting people with drawdown. And we'll be doing more to support decisions here too, with both our customers and their consumers.
We've got some events booked in too. We're going to FinTech Connect 2019 and touring around the UK with the Zurich Investment Seminars. Tell us if there are any events you'd recommend or if you'd like us to attend yours.
Look out for the launch of our new website this month. And to help you stay informed when it comes to industry trends and resource, we're inviting you to join our monthly newsletter. You can sign up here.
Want to see how we can help you support your customers? Get in touch on the below details. And sign up for our newsletter and keep an eye on the blog.


And now, round off a successful 2018 with this video. And don't forget to tell us your biggest achievements in 2018 and what you're aiming for in 2019.


We wish you all the best for 2019, from all the team here at EValue.