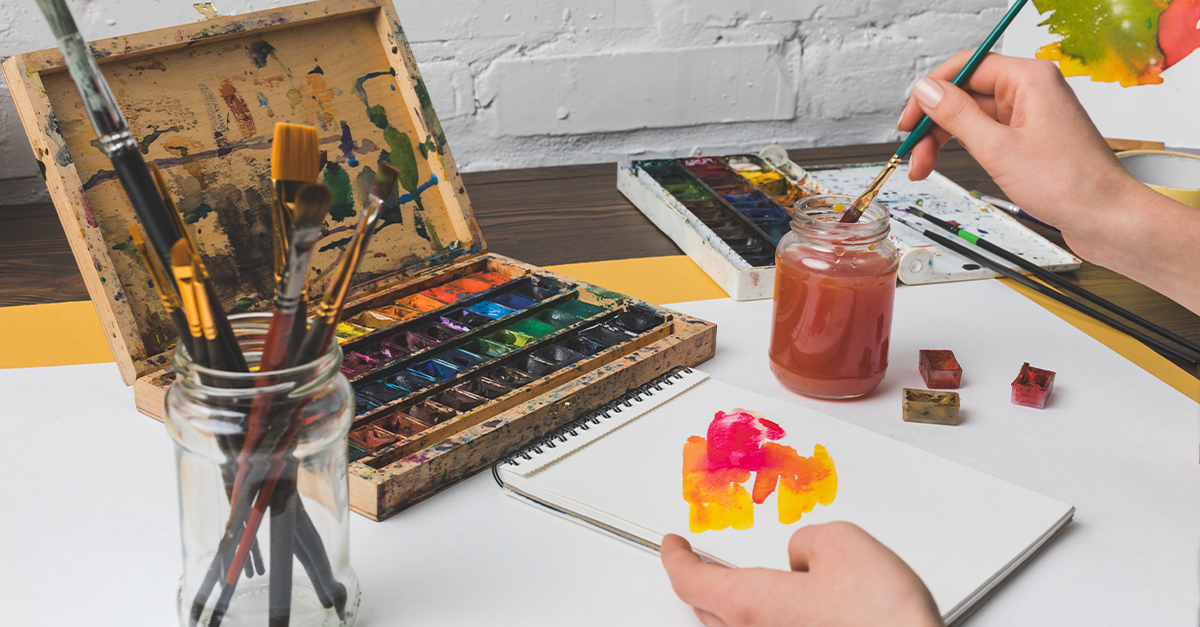 I recently had a flashback to a vivid and enlightening childhood memory: I am in nursery school with a paint brush clasped in my chubby little hand, in front of me on a table is a glass jar with clean water in it and a tantalising array of pristine primary colours in pots presenting so many wonderful technicolour possibilities. Cut to 20 minutes later and the water in the jar looks better suited to a ditch, the paints are indistinguishable from one another and the paper in front of me is sporting a misshapen brown blob, which is supposed to be a daffodil.
I clearly recall the visceral feeling of disappointment that my daffodil bore little resemblance to what I had set out with such enthusiasm and industry to paint. The array of colours seemed to promise so much initially, but really all my nursery-aged self needed was yellow and blue (and better brush cleaning skills). This got me thinking about choice more generally – when is the fullest range of options optimum and when is less more? Specifically, how many asset classes do you really need to make up a sensible portfolio and can you have too many?
It is generally accepted that holding more assets means more diversification benefit and potentially more expected return. However, when looking to meet an investment objective it is advisable to start with a high-level view with fewer, broader asset class choices than with a myriad of detailed options. Take emerging markets as an example and, let's say, rather than model optimised risk-reward characteristics against the term of the investment using fewer, broader asset classes, you opt to use two very specific asset classes - one giving exposure to Ecuadorian equities and the other to New Guinea equities. Market movements result in New Guinea equities moving marginally upwards, while Ecuadorian equities see no movement. Neither sees a change in volatility. The static asset class appears less attractive and is sold in favour of the one showing marginally better returns in that specific quarter. In doing so, it could wipe out an asset class off the back of a small change in characteristics which could very well be reversed the following quarter, meaning the asset class sold this quarter needs to be bought back the next. The more detailed the asset classes held then the more of an issue that becomes. A small change can make a big difference. For a portfolio, not only does the additional choice increase the potential for introducing instability to the portfolio, it adds to the difficulty in developing the investment strategy and it could potentially add significant charges through increased activity.
In contrast to this, EValue's asset model creates market leading strategic asset allocations optimised using risk and term. This broader approach better suits the retail investor using less specific asset classes but doesn't replace the role of the adviser in stock picking more constituents if required. Following years of outperformance, EValue recently presented at the Global Wealthtech Conference in London. Watching Akshay Kapoor, Managing Director for Insight were more than 300 delegates across the wealth management industry. Watch the video now to see how, for the first time, EValue lifted the curtain on Insight's outperforming asset model. See how this stochastic forecasting and asset allocation model predicted the 2008 global financial crisis and has continued to achieve outperformance year-on-year. Featuring realistic, forward-looking; stochastic forecasting, and with more than £10bn in passive funds, the EValue asset model is the product of more than 25 years' of performance by design.