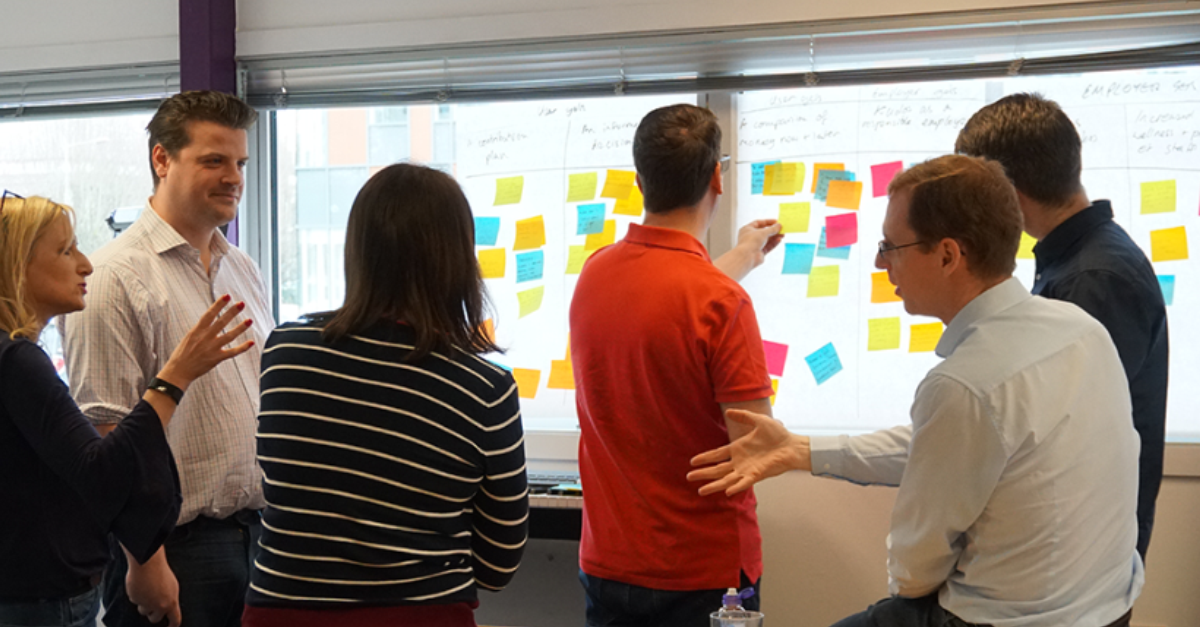 At the end of last year, we sent a team of people up to Edinburgh for the FCA's Pensions TechSprint. As they returned home and reported back, one part of the experience stood out: the way people worked together had created something special. This level of collaboration had the potential to revolutionise our industry. People from different companies, different parts of the UK and different job functions all shared their ideas – and their innovation was limitless.
Collaboration is one of our key values. It shapes how we work with each other, with our partners and with our clients. It's mirrored in our products and solutions. And we think there should be more of it.
Structuring the event
So, David McDonald, EValue's Product Consultant, decided to set up our own internal event. "Following our involvement in the FCA's TechSprint, we're keen to innovate more," David explained. "We ran an internal event where we asked everyone in the company to submit ideas about what they'd like to work on – whether it's a potential solution or a piece of technology. People then voted on their favourite, and off the back of that, we brought forward three of the most popular ideas for the EV Labs teams to work on.
"Everyone across the company has had the opportunity to come together and work in cross-functional teams to bring these ideas to life."
The final use cases were: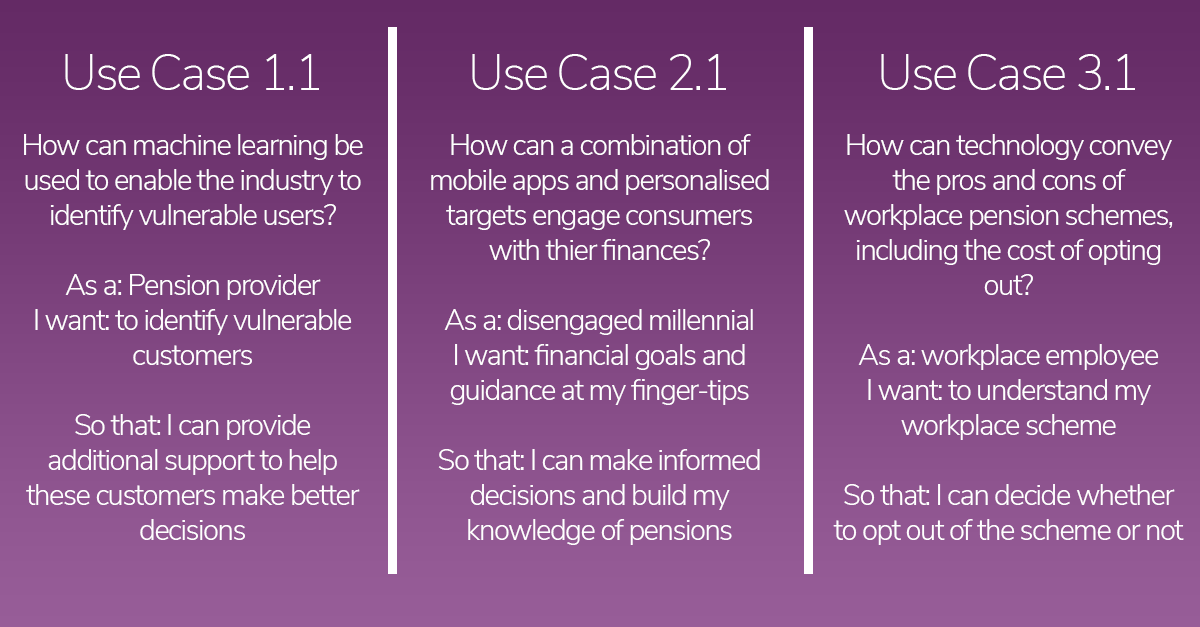 Experts from Buck, Experian and Boring Money also came along to help advise on the use cases and provide direction for the teams:
Use case one: Jes Westerman, Senior Consultant at Experian

Use case two: Alex Jones, Head of Market Research at Boring Money

Use case three: Ben Wells, a Senior Consultant at Buck
31 people signed up, so four teams were created, combining people of different ages, different roles and different experiences. There was no defined output, but the teams needed to have a viable solution they could present to the company in a five-minute pitch.
"From the early stages of empathising with users all the way through to working on their solution's final design, the end goal is that the teams will present their work to the company," said David. "We may potentially find a solution we can take to market too."
The right ingredients for innovation
After welcomes and introductions, the teams were free to plan their day how they wanted it. "It's not every day that you go into work and you're told to sit back, brainstorm and chat," said Boring Money's Alex Jones. "A lot of the time, you don't have time for chatting, and when you try to jump straight into the problems, you can't think in a different way."
Teams could share their ideas and experiences, with everyone bringing a new and different perspective to the challenge. The teams were diverse, mixing up everyone from new hires and graduates up to senior management. Every department in EValue had at least one or two people volunteer for the day, so there was a broad range of skills in every team.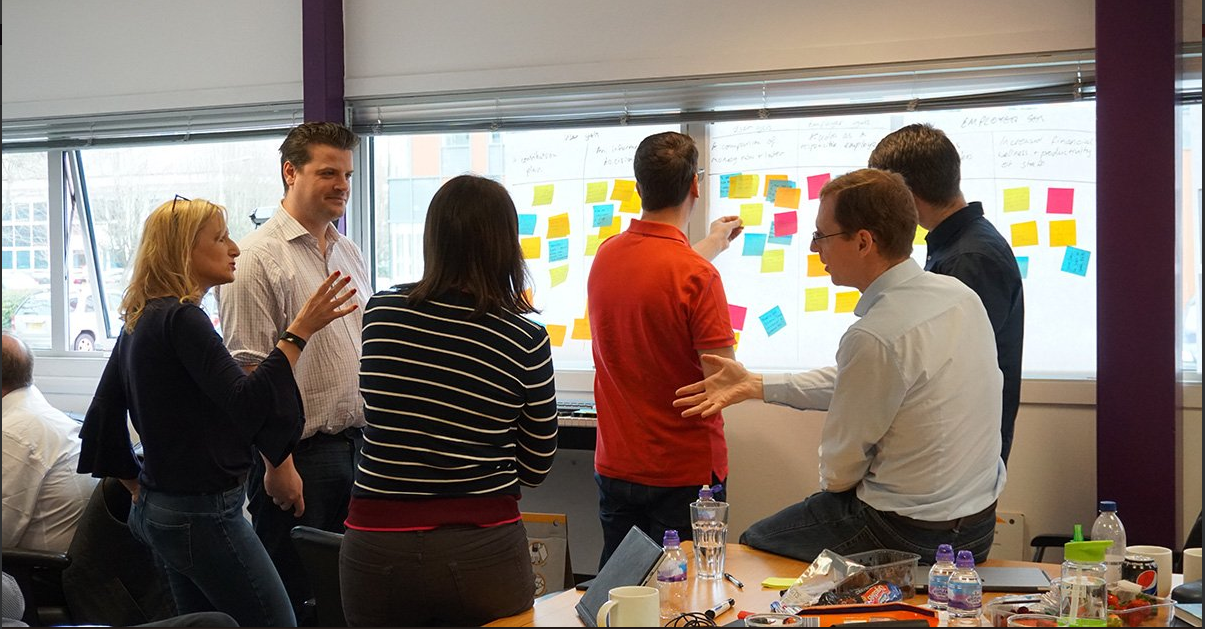 The three external figures, Jes, Ben and Alex, helped the teams shape their ideas and provided useful insight. Ben Wells was able to share his experience of working in different sectors, while Jes was invaluable with his advice on consumer information and data. Alex explained that he'd come in as customer voice: "I've done a lot of focus groups with millennials, so I've been giving the teams some insight into my experience in research, and also playing a little bit of devil's advocate, helping to shake some of their initial thoughts and throw a spanner in the works."
Creating a space to collaborate
EV Labs is all about working together. It's about igniting ideas and sparking up conversation. It aims to bring together different people, to shed different opinions and perspectives on existing challenges. Working in these cross-functional teams lets us think in a better way. And by inviting participants from other providers, partners and organisations, we can break down the siloes prevalent in our industry, to create solutions that work for our customers.
It's also about thinking in a new way. Our Client Development Director, Andrew Storey was part of use case three: "This kind of collaboration is important because you need to come up with ideas and develop products more quickly than a traditional waterfall method. Work expands to fit the time available: if you make the time shorter, you can come up with good ideas quickly."
What next for EV Labs?
The day was a huge success, with all teams coming up with creative, forward-thinking ideas. Next time, we want as many people as possible to get involved – from all different companies and organisations. EV Labs: Pensions will see teams find new ways to support mass-market consumers when making at-retirement decisions. You can see the suggested use cases in the bubbles – though we're open to suggestions on these.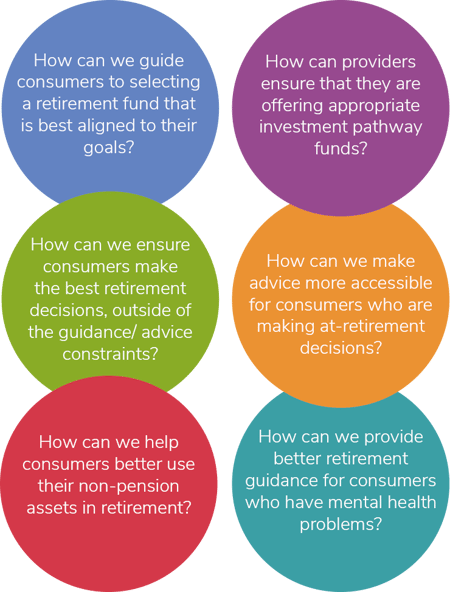 If you're interested in taking part, get in touch with us on contact@ev.uk