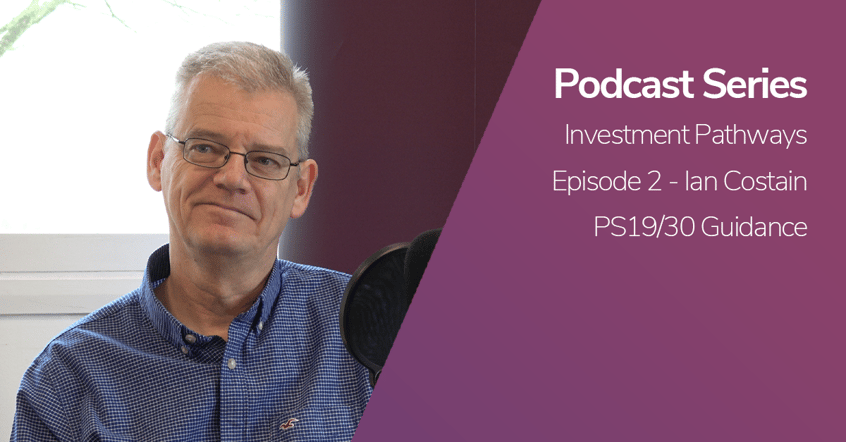 In the second installment of our podcast series, Tim is joined by Ian Costain, an Independent Consultant and expert in pensions regulation.
Ian is a qualified actuary with more than 25 years' experience in the pensions industry.
For the last ten years, he has been an independent consultant, with a strong focus on pensions regulation. Ian is also an independent member of Old Mutual Wealth's Independent Governance Committee (IGC) and is qualified to be a member of an IGC by merit of his wide-ranging experience in the pensions industry extending from consumer protection – he has worked specifically for a number of regulators – to the technical design and pricing of the pension products themselves. So a trusted voice in this discussion.
In episode two, Tim and Ian discuss the release of PS19/30 and what the expanded role of IGC/GAAs' will look like. They will also discuss what pension providers need to be doing right now to make sure they are ready for the upcoming changes in regulation.
They will also discuss the following;
What do you think the FCA are trying to achieve with the release of PS19/30
What new duties have been created for IGC/GAAs
Was the extension to the IGC/GAAs necessary
Listen to the recording here, or watch the video below.
So what next?
The launch of investment pathways in August 2020 will present significant challenges, requiring a robust software proposition.
As a pension provider, you will also need to have an IGC or GAA set up by April 1st 2020 to assess the appropriateness of your investment pathway default fund solutions.
At EValue, we have a long history of modelling drawdown strategies and communicating risk and suitability. We are currently partnering with several clients to ensure they meet the looming deadline so they can use this as an opportunity to add value during this critical decision point with their customers.
Our independent off-the-shelf Investment Pathways solution can help you communicate the choices end consumers have to understand.
For more information about our capabilities, please follow the link to our investment pathways hub: https://www.ev.uk/investment-pathways