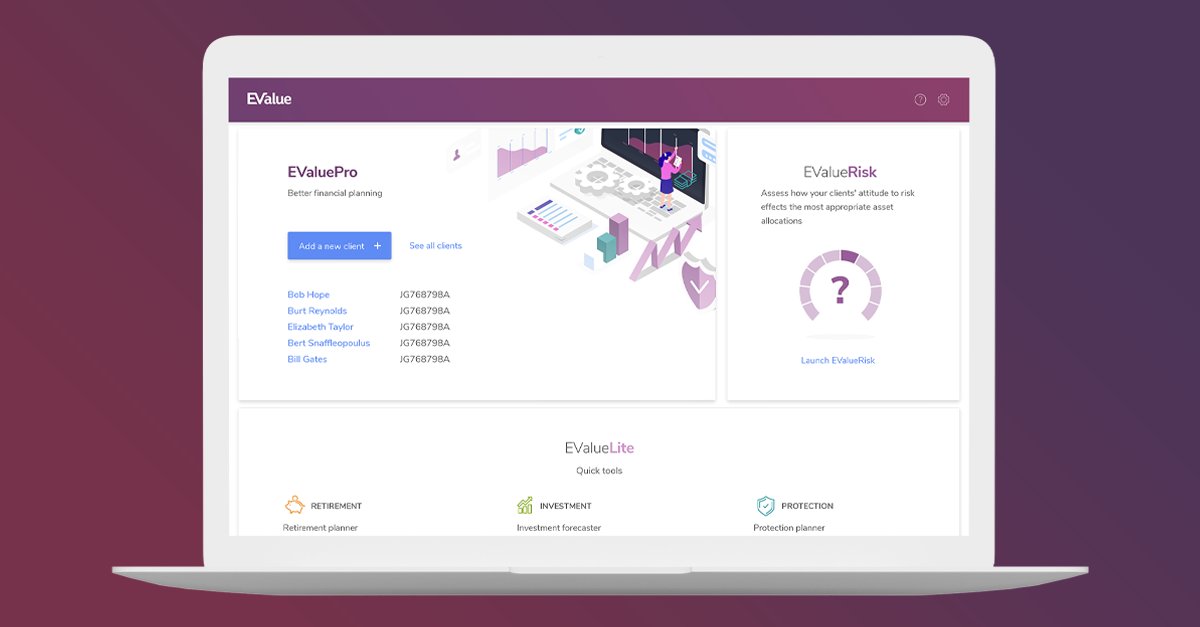 Whether you provide advice, guidance or investment solutions, it's imperative that you help your customers to unravel the complexities of financial planning.
At EValue, our goal is to help consumers understand and meet their financial life goals, through better financial planning. We do this primarily through user-facing software that exposes the capabilities of our calculation engine and market-leading Stochastic model, Insight.
We offer a range of financial tools and widgets that provide comprehensive solutions to your financial needs. Essentially, we offer two suites of tools;
A set of tools available to advisers that compliment their processes and allow planning, projecting and managing their customers' finances.
A direct to consumer suite; integrating with administrators and banks to communicate financial planning in a clear and easy-to-understand manner.
Watch our video now to better understand how our tools are built, and how they sit within our financial planning suite.
These tools are built on EValue's APIs which are the background calculation engines that drive our software, and the tasks it has been created to fulfil.
EValue's Pensions Freedom Planner is one such example of a tool that has been created to support the financial planning process. This planning tool enables the user to analyse their current retirement situation, based on all of the assets and income that they may have available during their retirement. It allows them to alter their retirement options and explore "what if" scenarios that illustrates how changing any element of their retirement plan could improve their lifestyle in the future. Using our APIs, many of our tools also enable the user to utilise powerful 'backsolve' calculations that can suggest a change in contribution, retirement age, or target income, that is more likely to improve the chances of achieving their desired retirement lifestyle.
If you'd like to see a demo of EValue's software solutions or have any other questions around our solutions, please contact us at contact@ev.uk.