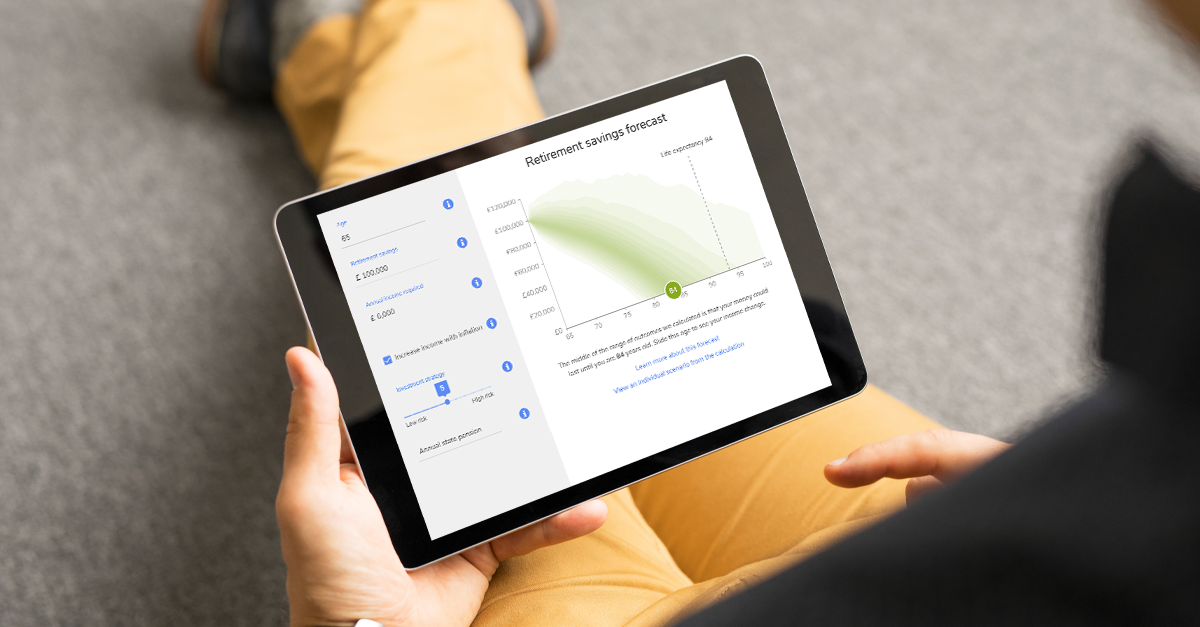 Income drawdown is notoriously complex. And for most members of the general public, it's a topic that will remain elusive and unexplained until it's almost too late. To have good outcomes in retirement, people need to know what they're saving and investing for – and if they don't understand the risks and nuances, this is made even harder. To help your customers get the most from their drawdown plan, consider using modelling tools. Whether it's to educate, empower or manage expectations, these tools can make a big difference to your customers' retirement plans.


Manage customer expectations
We know that people aren't splurging their pensions on supercars and luxury holidays. But many people's expectations still don't match up to what their pension pots can cover. And this discrepancy could leave a lot of customers in hot water. We found that 74% of UK adults over 50 want a guaranteed income for life. But out of these people, 86% want flexibility in their income too. This a tricky scenario to see through: how do you balance the guarantees of an annuity with the flexibility of drawdown?
Modelling tools can provide clarity here. Whether it's an online self-serve tool or an offering you use in person, you can show people the effects of their choices in black and white. With easy-to-understand graphs and charts and engaging interfaces, these tools can turn expectations and dreams into a plan for reality.
Even on a high level, these tools can help bring expectations and reality back into balance. For customers who don't want professional advice, guidance tools provide a useful sense check. People can see a review of their situation and decide whether they're on track or in need of serious improvements.


Gain a competitive edge
Using modelling tools helps you stand out among a crowded marketplace. For advisers, you'll have a clear way to add value. Research shows that under four in 10 advisers use cashflow planning for the majority of their retirement clients. So, if you have this offering up your sleeve, you can build trust and demonstrate why a client will need your help. Likewise, you're giving customers a valuable tool to help them better understand what they need to do for their retirement.
Our new research shows that 66% of UK adults want their pension providers to give them clear information about drawdown plans. With modelling tools, you can meet this new customer demand, as well as helping more people achieve the retirement outcomes they want.
People want help. And if you can be the one to give it to them, in an engaging, simple way, then your brand will end up with better customer retention and loyalty.


Explain risk and reward in a clear way
It's one thing to explain to your customers what they could possibly get or lose – and it's another thing to show them. For some people, words and warnings on a page get lost in the ether of complexity and misunderstanding. But showing people a clear graph or diagram through a tool, personalised video or widget is easier to understand.
Modelling tools help you depict both positive and negative scenarios in a clear way. You can instantly show the effect of higher or lower contributions, or what happens if your customer wants to increase or decrease their monthly allowance.
You can also add clarity to complex topics like sequencing risk. This is a tricky term to understand, so being able to show the differences of starting with bad returns vs good, will help demonstrate what this means in reality. Modelling tools let you turn complex theories into practical demonstrations, and as a result, help you set up strategies and plans to avoid negative outcomes.


Empower your consumers
There's a growing appetite among consumers to learn about their finances. People are accustomed to googling the answers to tricky questions and taking a hands-on approach to shaping their lives: just look at the rise in YouTube tutorials and online courses. For most, it doesn't matter whether they're learning how to speak Spanish, how to build a table, or how to manage their income retirement. The internet holds all answers: almost one in four UK adults over 50 will use it to find advice on their retirement plan.
But we know it's not that easy. Who knows what advice people will find and follow online – and it's a big risk to hope it's right. Modelling tools give you the opportunity to empower your consumers, and steer them away from the wilds of unsolicited advice online. You can use self-service guidance tools and online automated advice offerings so people can explore their retirement options in a way that suits them. They can teach themselves about the different aspects and what they need to save. And all the while, their knowledge is based on your robust calculations and returns.
This is more than a value-add offering. This is a way to keep step with society and give information to people in the way they want it. You can help a whole generation truly understand their pension – and work towards better retirement outcomes for all.


Why use tools?
Guidance and advice tools can help people understand the options they have and ensure their expectations align with reality. Our modelling tools let you show consumers what their current situation is and what they need to do for the future.
Because our tools can be data-loaded, you can easily show consumers what they already have. And when you link this to our budget planning tools or APIs, you can build a view of their future – without needing to ask for more information.

You can explore our range of modelling tools here. Or get in touch with us for more information.