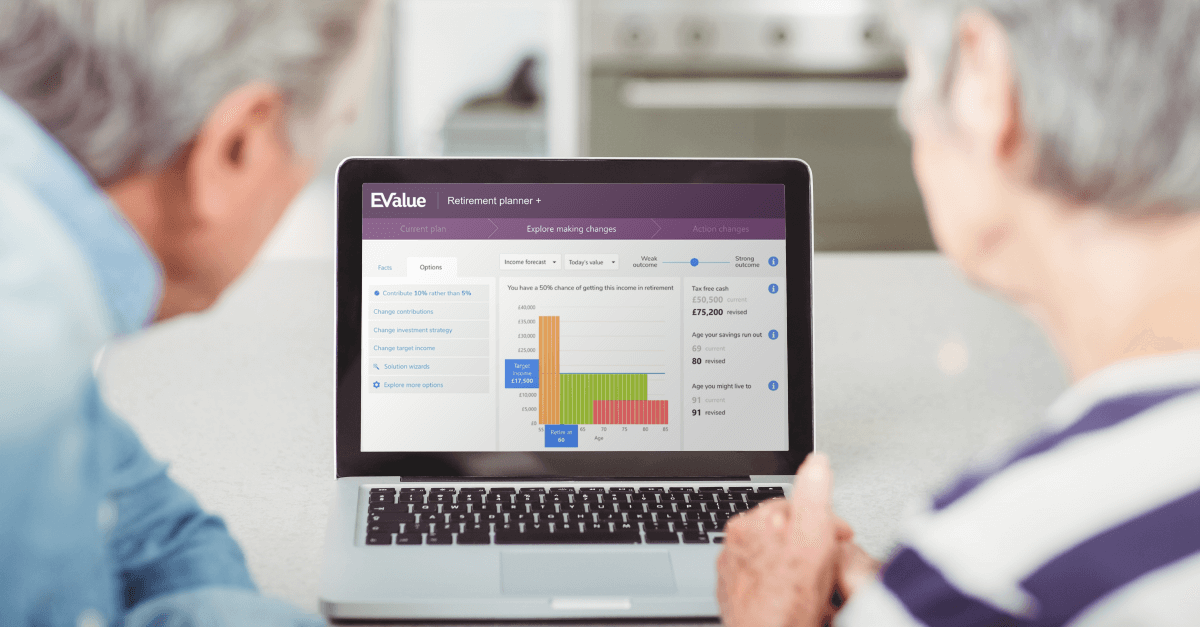 Looking for a tool to help your clients explore their retirement options? Our Pensions Freedom Planner has been designed to offer a greater level of detail by providing a more realistic and holistic view of retirement. This article answers a few of our most frequently asked questions.


What is EValue's Pensions Freedom Planner financial guidance and advice tool?
Pensions Freedom Planner (PFP) guidance tool from EValue has been designed to help consumers explore their retirement options in greater detail. The planning tool enables the user to analyse their current retirement situation, based on all of the assets and income that they may have available during their retirement. It allows users to alter their retirement options and explore how changing their retirement plan could improve their lifestyle in the future. PFP offers a more realistic and holistic view of retirement that is unique to a specific user.
Why is Pensions Freedom Planner important?
Consumers need to understand the impact of different retirement options on the sustainability and risk to their future lifestyle. PFP allows the user to identify shortfalls, make simple changes to help meet those shortfalls and in doing so gives the context a consumer needs to make good financial decisions.
Who should use Pensions Freedom Planner?
PFP is a consumer designed financial guidance tool that helps users make sensible and well-informed decisions. The tool can also be configured in different ways: it can be tailored to a particular scheme, employer or proposition, and can include or exclude functionality to make it simpler or more detailed. Users can also enter details and contributions from a spouse that might impact the overall retirement plan.
How is Pensions Freedom Planner used?
PFP is an online tool, which is intended to be used to create a consumer retirement plan. Data is input by the user in as little or as much detail as they choose and the tool uses this data to generate projections for the future. A report can be produced to provide a summary of the information that has been input or changes, such as increased contributions, can be actioned directly from the guidance tool with a 'one-click' function.
How do the projection forecasts work?
The basis of all assumptions on the PFP solution and, indeed, all solutions from EValue is stochastic forecasting. EValue calculate 1,000 different scenarios and show the range of possible returns, highlighting not only the likely middle result but also the full range between higher and lower results. The forecasts take into account all types of possible scenarios such as large and sudden rises or drops in the equity markets to help 'stress test' outcomes for users to demonstrate a holistic view of their options.
Pension Freedom Planner Enhanced
Critically, PFP Enhanced adds a range of backsolves to the tool. This unlocks 'what-if' scenarios that can help users work out how much they need to pay to meet their income and retirement age targets without the labour-intensive requirement of trial and error. It also adds more optional details to improve a user investment strategy.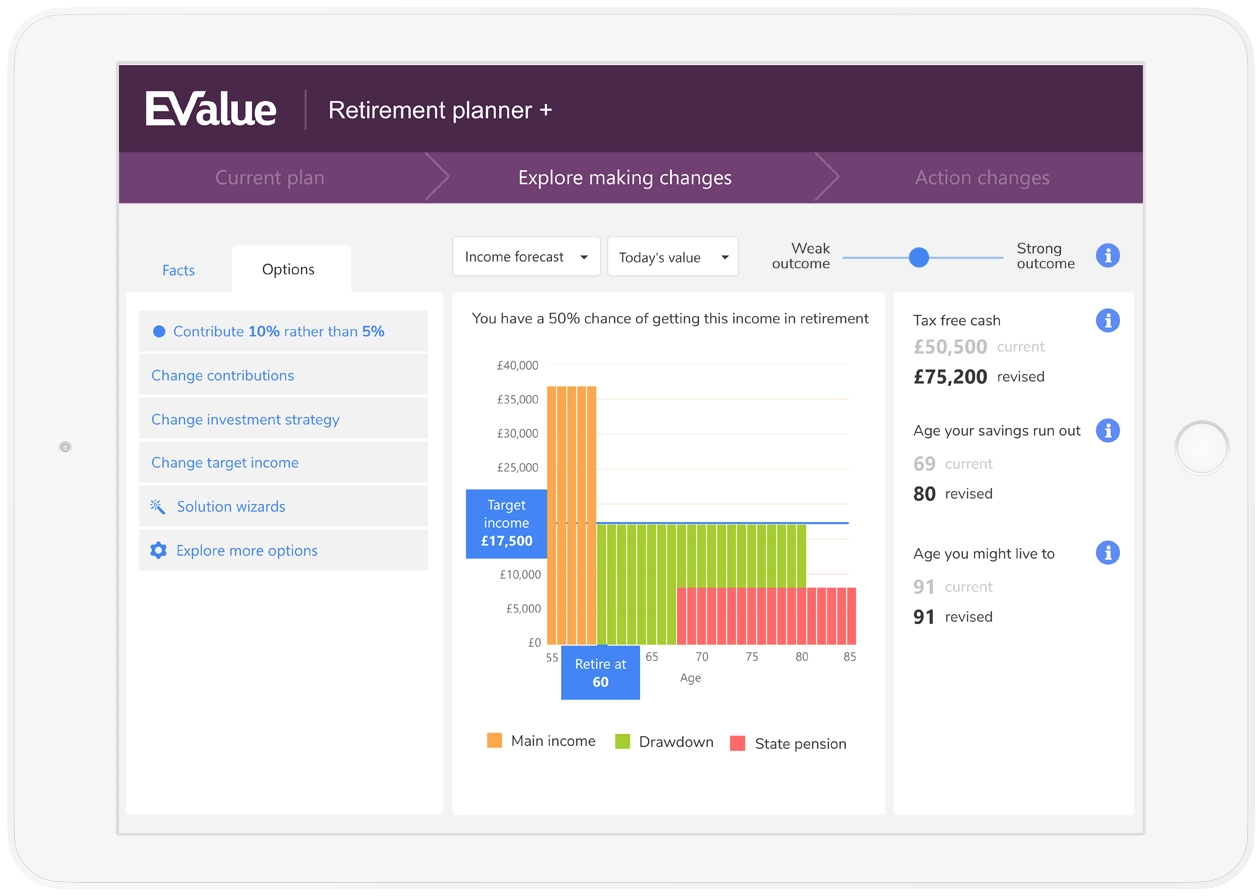 Why should you purchase Pensions Freedom Planner?
Users can action changes to their pension plans directly from the tool, increasing contributions and increasing assets under management;
Save time and improve user experience by adding 'what-ifs' that utilise EValue's backsolves to work to a target (requires PHP Enhanced);
EValue have 20+ years of experience in building tried-and-tested, simple-to-use, and engaging tools for advisers, consumers and corporate workplace;
User tested and regularly updated tools fit for purpose;
Stochastic forecasts that show the trade-off between risk and reward to enable consumers make better informed financial decisions;
Flexible products that can be configured and implemented quickly to meet functional requirements and challenging deadlines
What are the APIs used in Pensions Freedom Planner?
Budget Planner Retirement
State Age Pension
Life Expectancy
Scheme Contribution
Annuity Backsolve Retirement Age
Drawdown Backsolve Income
Drawdown Backsolve Regular Contribution
Drawdown Backsolve Retirement Age
Retirement Forecast Advanced
Annuity Backsolve Regular Contribution
If you'd like to learn more about the Pensions Freedom Planner tool, or would like to schedule some time for a demo, you can email us at contact@ev.uk.