Back in March this year, a new type of ISA, known as the Lifetime ISA (LISA), was introduced in the budget by the then Chancellor of the Exchequer, George Osborne. The LISA, which is due to be launched on 6 April 2017, offers the same tax free savings as a normal ISA but with one major difference. Under a LISA, the Government will contribute an additional 25% top up if investors keep it invested until they reach age 60. Savers can put in up to £4,000 a year and receive a top up bonus of up to £1,000 making it a potentially attractive alternative to paying additional savings into a pension. Although many may be tempted to ditch their company pension plan and pay into a LISA instead, it is not immediately obvious which of these two options would be better for any given individual. We take a look at 5 important factors that individuals will need to consider to decide which of the two options may be the better one for them.
1 – Am I eligible?
You can only take out a LISA if you are between ages 18 and 40, so only people born after 5 April 1976 will be able to take out a LISA on 6 April 2017.
2 – Am I saving for retirement or for my first house?
Both pension savings and LISA contributions are locked up for the long term (at least age 55 for pensions and age 60 for LISAs). However, the proposed rules do allow individuals to take money out of the LISA without penalty before age 60 in certain circumstances, the main scenario being to fund a deposit on the purchase of their first main residence in the UK. Although you will be able to access your money, if required, at any time in other circumstances this withdrawal will be subject to a 25% government charge. This is designed to recover the government bonus element and apply a small additional charge.
Pensions, on the other hand, cannot generally be accessed before age 55 although exceptions are made such as in cases of serious ill health, for example.
3 – What tax gain will I get on additional contributions?
Pension contributions are effectively a deferral of tax. The tax gain comes from two sources
Contributions paid into a pension scheme get a higher rate of tax relief than the rate at which they are taxed when they are paid out
25% of the pension fund can currently be taken tax free
So the uplift that you get from paying into a pension scheme depends on your tax position now and what you expect it to be in retirement. Let's take a look at a couple of examples:
Currently earns £50,000 a year with little pensions savings, Basic State Pension only in retirement – big gain
Currently earns £25,000 a year with decent accumulated savings, basic rate tax-payer in retirement so gain will only be on tax free cash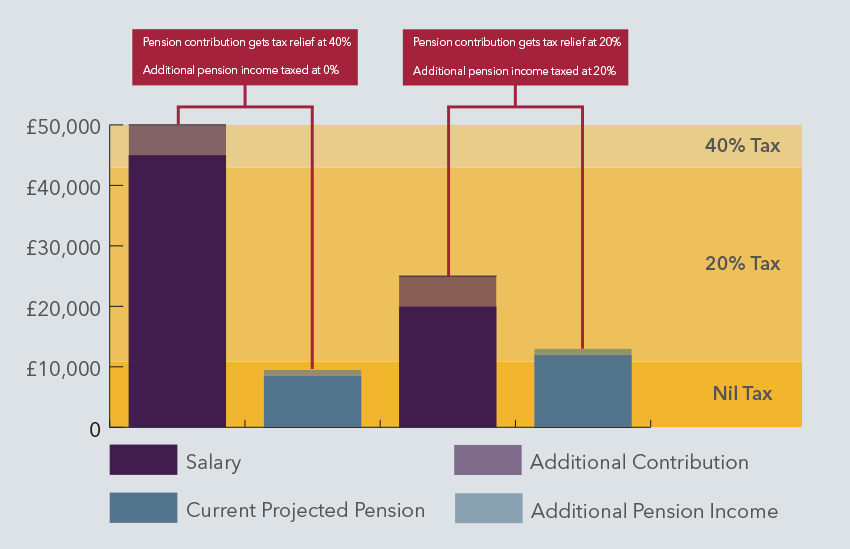 4 – Company matching – free money?
A key benefit of many company pension schemes is that the employer will often match any additional pension contribution that their employees make. This may take the form of a 1 for 1 match, for example, so that if you pay an additional 3% of your salary into your pension then your employer will match this and also pay 3%, giving you a total additional contribution of 6% of your salary into your pension pot. Other employers may be more generous whilst some may be less so. Nevertheless, if you can afford it, paying contributions to attract the maximum match from your employer will make the most of the savings available to you.
5 – Salary sacrifice
Do you pay pension contributions via a salary sacrifice arrangement? Don't know?
Some employers have set up their pension schemes so that employee contributions are paid under a salary sacrifice arrangement, saving both them and their employees National Insurance (NI) on the contributions made. Additionally, some employers share some or all of the NI savings they make with their employees by way of additional contributions. For a basic rate taxpayer, the NI saving on pension contributions can often add up to more than the tax ones.
Still don't know if you pay contributions via salary sacrifice? Perhaps it is worth asking.
In Summary
So if I want to know which option, Pension or LISA, is best for me from a savings uplift point of view, what do I need to do?
Ask your employer these questions
Do you match any additional contributions I make above my current level, if yes by how much (e.g. 1 for 1 would be a 100% match)?
Do additional employee contributions get paid on a salary sacrifice basis, if yes, does the employer share their NI saving with the employee and if so what proportion (e.g. sharing half their NI saving would be 50%)
Investigate the scenario
Calculate what the tax uplift may be based on current and in retirement tax position and the employer's pension scheme. The tool here may help you.
Final Thoughts
Long term saving is heavily incentivised and under the current pension regime there are both winners and some 'big winners'. However, someone on average earnings with decent pension savings may find that the fixed level uplift of a LISA is a more attractive proposition for them than paying additional contributions into a pension scheme. Clearly, this will depend on their personal circumstances and confirmation of some quite complicated employer pension information.
The introduction of LISAs adds a further degree of complexity to retirement saving choices which were supposed to be simplified by the 2006 tax changes. Inevitably, with more choices comes more chance of "decision freeze" by individuals and, therefore, the greater the need for workplace provision of guidance to employees to help them make well-informed and suitable retirement savings choices.