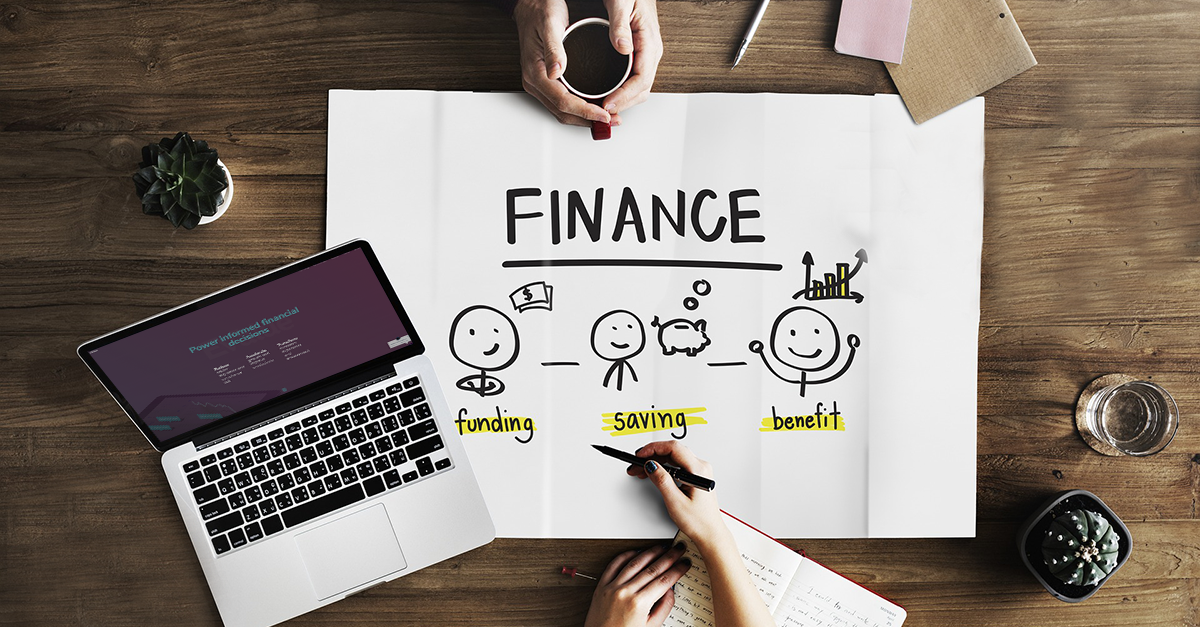 Ever since the financial crash in 2008, people's trust in the markets has decreased significantly, and not just with the banks. All financial services organisations have seen a marked loss of trust and increased dissatisfaction with the status quo. In fact, research conducted by PwC found that just 33% of the participants surveyed, trusted their banks with ratings for other financial services companies ranking significantly lower. With a younger and more financially unstable generation moving up to take the reins, companies run the risk of remaining in this negative feedback loop forever. But what can financial institutions do to improve consumer experience and regain trust in the financial sector? This article explores five ways you can build trust with consumers.


Be more understanding
The most crucial step you can take is to really understand your audience. Taking the time to do this will put the foundations in place that will allow you to start building truly outstanding customer experiences. Understanding the needs of your consumers, their likes and dislikes, and what makes them tick will stand you in good stead. Too many banks and financial institutions have stuck with a 'we've always done it this way' approach and this has allowed disruptors like Monzo and Starling to take a bigger cut of the market share.
Consumer habits are changing, and with more time spent online, going digital is the way forward. However, they still want to be able to speak to an actual person, so you'll need to ensure you're covering all the bases to help them access your services and factor in the human element to provide an optimum experience.
Millennials also tend to prefer a DIY approach to their finances, with around 75% of them preferring to seek out information to solve customer service issues themselves. This on demand, 'on my terms' approach has been a sticking point for many financial services institutions, but moving to this new way of doing things will ultimately lead to increased trust in your organisation. Many companies now offer live chat functionality, which allows consumers to self-serve but also have the peace of mind that there will be someone at the other end should their query remain unsolved.
Be available
One of the biggest ways to gain trust is to be there when your customers need you. And this means being available to respond quickly. If you're not able to provide a 24/7 service, set expectations upfront and ensure that you respond as soon as possible when business hours resume.
You'll also need to explore different avenues for customers to reach you. You'll undoubtedly have all your contact details available on your website but what about those consumers who prefer social media as a route to a conversation? Of course financial matters are inherently private but you'll find that people are more than happy to seek out help and advice in a public forum. Being responsive on social media and other digital channels shows not only the customer that you are ready and willing to help with their issue, but also their peers.
News of good service travels fast, but news of bad service travels faster. If you can show that you're delivering good service and actively helping your customers, and being honest and transparent when things don't go to plan you'll quickly gain your customer's trust.


Be transparent
The financial services industry is often perceived as distrustful due to the lack of transparency in the sector. Not many consumers understand what institutions actually do, and this lack of knowledge coupled with widespread reluctance to disclose information often results in a loss of trust.
Financial companies should make a move to clearly state what they do, and how they can help, in a language that is simple and easy to understand. Boring Money does this very well, and it shows. Its current trust score, according to Trustpilot, is 9.3.
But it's not just about providing good customer service. To really be open and transparent you need to listen to your customers:
Send out regular surveys to gain feedback on your products and services
Take the time to understand your customer's frustrations
Put a plan in place to address issues and act on them
Doing all this in the public eye will help to show that you're making a concerted effort to make improvements and will give consumers greater reason to put their trust in you.
You could also give consumers the option to review your business. People tend to trust their peers much more than the businesses they interact with, so having an element of social proof will go a long way in showing that you're trustworthy.


Be more human
People are a sociable bunch and typically when we're dealing with our finances we want the option of speaking to another human, not a faceless corporate. Many financial institutions are guilty of coming across as stuffy and this won't wash with consumers. But balancing the human aspect with something as important as financial planning and management can be difficult.
Savings chatbots like Plum and Cleo provide a live, in-app chat experience that mimics real conversation, including the use of images and gifs to appeal to their millennial audience.
A chatty approach with emojis works for some companies, but it won't be appropriate for consumers at retirement who are considering their options. This harps back to the need to truly understand your customers. If you provide an element of robo advice, make sure that you retain the human experience.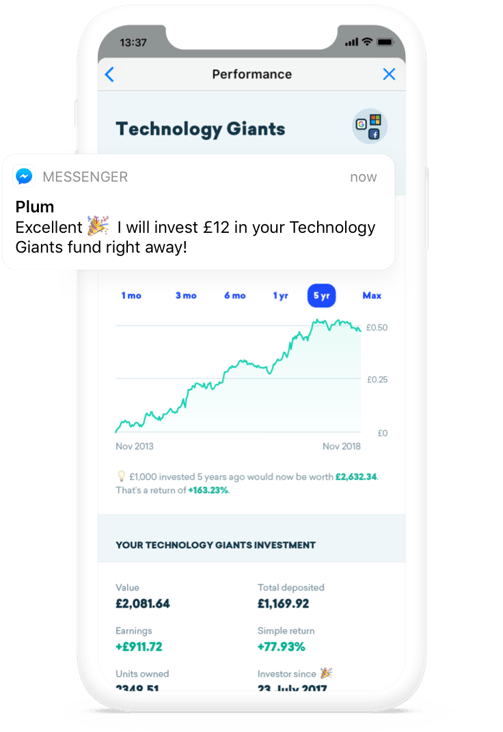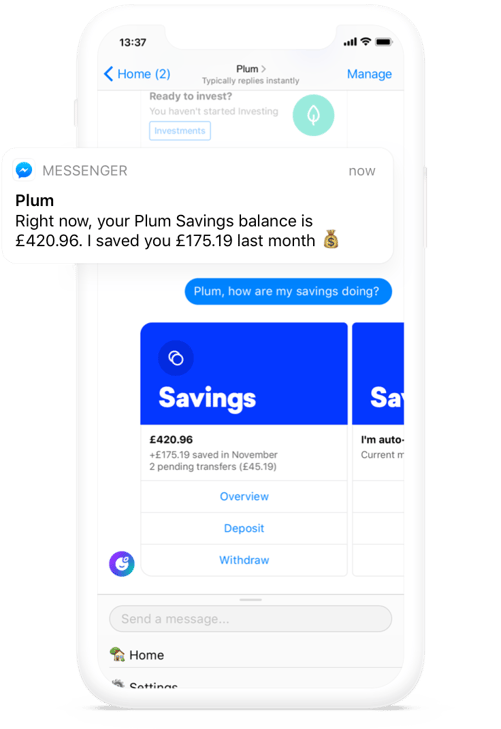 Images from https://withplum.com/
For an example of robo pensions advice, look no further than our very own digital assistant, Fin. Fin helps people who are considering or have chosen drawdown as an option for their pension. Consumers can 'talk' to Fin, enter their details and Fin will tell them how long their pension will last. You can learn more about him in this article.
Be more reliable
Being reliable should come with the territory for financial services firms. But when we look back at the collapse of the banks and the chaos that ensued, poor preparation and lack of visibility and honesty put the final nail in the coffin for consumer trust.
When it comes to financial planning, it's imperative that your firm gives advice and/or guidance that's accurate and reliable, and completely tailored to the individual. Any financial advice or guidance must take consumers' individual situations and needs into account to ensure the service is completely personalised.
In our experience, when it comes to helping consumers with financial planning, accurate forecasts are key to help drive informed financial decisions, and to help individuals understand all plausible outcomes. With more accurate forecasting comes the ability to communicate potential issues such as sequencing risk (where the timing of poor investment returns can have a huge impact on pension funds) . If these issues are raised with the consumer in a timely fashion, you can better prepare them for any negative impacts on their investments, like poor returns or increased volatility in the markets. With increased awareness comes a feeling of comfort and control, which helps to build trust in your business.
Consumer trust in the markets has suffered greatly over the last few years, first with the financial crisis and now the uncertainty of Brexit. And although it takes a long time for damaged trust to be rebuilt, it can be done. These suggestions, when implemented, will not only help to improve customer experience but will also increase trust in your business.