For many, the term robo advice is a misnomer having nothing whatsoever to do with robots and, in some cases, not providing any actual financial advice at all. Nevertheless, robo advice solutions have the potential to help transform the UK's financial services market not only for the benefit of the industry, as a whole, but for individual retail consumers, in particular.
But how?
Transforming the delivery of advice
Currently, in the UK, the term robo advice covers four principal areas each of which has a significant role to play in the re-engineering of the delivery of financial products to retail consumers in the UK. These are:
Streamlined advice delivered online with no support ("Pure Robo") - The most cost effective model suitable for services targeting more confident investors. Focuses on simple products and goals e.g. ISA investment
Streamlined advice delivered online with supporting guidance from unregulated individuals (also defined as "Pure Robo" since human advisers are not directly involved) – Cost effective and potentially helpful in achieving higher rates of completion amongst less confident investors and potentially able to address more complex needs
Streamlined advice delivered online with support from regulated advisers ("Hybrid") - Substantially lower cost than the traditional advice model since the majority of the work is undertaken by the consumer online. Suitable for the most complex areas of advice.
Self-directed execution-only with guidance - Care must be taken to avoid the guidance being considered in any way personal to the consumer.
In order for robo advice to be the agent for change, the focus of any advice given will need to be appropriate and not detrimental to the consumer's other financial needs. In practice, this may mean that, for certain consumers, pure robo advice will not be a suitable proposition to manage their particular financial circumstances. Instead, full or hybrid advice will be required. However, this does not necessarily mean reverting to a traditional, high-cost, fully face-to-face or one-to-one process. Much more cost effective approaches can be developed using hybrid streamlined robo advice models.
Streamlined Robo Advice
To help transform the delivery of financial products, robo advice needs to form part of a truly omni-channel solution, covering all of the major financial planning areas. Achieving a seamless user experience requires not only consistency between the different channels but also the ability to enable the consumer to access whatever service he or she wishes to use (whether self-directed purchase, pure robo or full advice) without the need for re-keying any information.
Whilst for some financial goals it is possible to minimise the amount of data that needs to be collected, entering data into a robo advice solution represents possibly one of the most daunting parts of the procedure for many consumers. Consequently, as much data as possible should be pre-loaded and data aggregation services used to collect and maintain investment, bank account and insurance data, making the whole process as easy and stress free for the consumer as possible.
Any data that is entered and any work done in one advice model should be easily accessed by all the other different models, enabling consumers to move (or be moved) between them with maximum efficiency and cost effectiveness.
For example, if during a robo advice session, a consumer's financial matters are found to be too complicated for pure robo advice to be suitable then either hybrid or traditional advice could be offered instead. Given that all of the data that was previously input by the consumer will still be accessible and the areas of complexity requiring attention from a human adviser will already have been identified, this alternative advice process could be made available to the consumer at a very cost-effective price.
The diagram below illustrates how a streamlined robo advice system might be designed.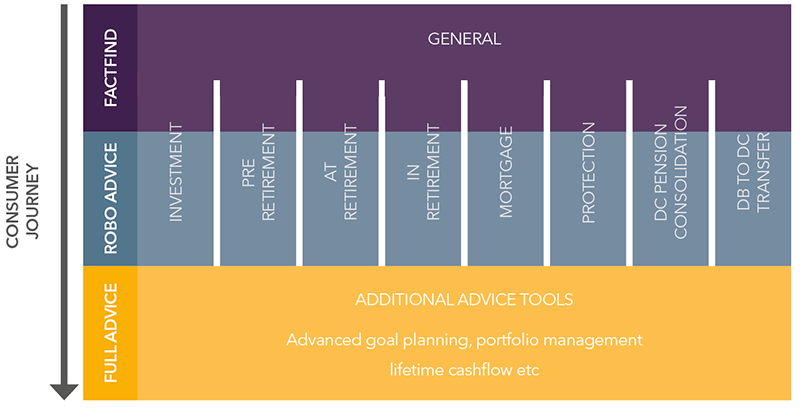 Such a system can be used for:
Multiple pure robo advice goals;
Hybrid advice with the consumer going through the process online and an adviser signing off the process;
Hybrid advice where a pure robo process has been aborted because of some complexity – the adviser can focus on the complex issue using the information collected in the robo process and additional advice tools (where necessary);
Full advice delivered face to face with the adviser entering some or all of the data using the robo process and additional advice tools (where necessary); and
Full advice where the consumer has previously used a robo advice process but decides that he or she requires full advice in place of the robo advice or as an extension in a different need area – all the information in the Robo process and fact-find is available to the adviser
In Conclusion
Robo advice has the potential to make an enormous contribution to transforming the delivery of financial advice in the UK. In essence, consumers can be offered a brand new proposition – a personal financial planning portal enabling regular monitoring of their investments and ongoing tracking of the progress towards their financial goals, with or without the assistance of advisers.
The flexibility inherent with an integrated streamlined robo advice approach not only offers consumers a greatly enhanced financial planning experience but will also enable financial services companies to deliver effective, affordable and regulatory robust advice for all.